What Doctors Say
Dr. Benjamin Baechler, MD
Eniva Vice Chairman, Chief Scientific Officer
Formulator of VIBE and Eniva's Extensive Nutraceutical Product Line

"At Eniva, it is my privilege to be a part of helping people lead healthy lives. I'm passionate about nutritional intervention and the role it can play in helping people reach their wellness goals. The Eniva VIBE nutraceuticals represent a significant advancement in specialized nutritional support. Their nutritive components, broad antioxidant capacity and support of the cardiovascular system are outstanding."
Ray c. Wunderlich Jr. MD, PhD
"At the Wunderlich Natrual Healing Center, we have great results in advancing Health (at the expense of Disease) through the use of the Eniva products! Eniva's unique formulations provide a high success rate without complications."
Brent Agin, MD
Author: Healthy Aging for Dummies
"Eniva's industry leading VIBE is by far the best nutraceutical formulation that I have come across. In my professional opinion, it has the most complete nutritional formulation with great absorption due to Eniva's state of the art manufacturing process. With confidence, I recommend VIBE to all of my patients, and I never miss my daily shot of VIBE!"
Gunn Agell, PhD
"After 25 years of constant research in holistic health, I have never seen a product (VIBE) produce such dramatic results."
Maria Nualart, M.D.
"I have patients who've had challenging health conditions for years that have recently seen significant benefits from VIBE and other Eniva nutraceuticals. They feel much healthier and have a measurably better quality of life."
Ricardo Ramos, M.D.
"I have used Eniva products with my patients and in my own family. In my practice we have experienced positive results using Eniva nutraceuticals. We've seen noticeable improvement in individuals using VIBE, as well as numerous other Eniva products."
James Said, DC
"The product (VIBE) itself is completely unparalleled in the nutritional world."
Thomas C. Oliver, DC
"I have recommended VIBE to many of my patients with wonderful results. The more I learn about the research behind this product and the recognition it has received for excellence, the more confidence I have in recommending it to those I serve."
Back to top
---
Weight Goals

"Several years after having my last child I realized I was still carrying a lot of extra weight, and as a result, I wasn't able to do some of the things I dreamed of doing with my children. I began taking VIBE every day for my other health goals, and I soon realized some wonderful results.* This really motivated me, and I began to follow Eniva's weight management tips.

Since beginning, I have left behind pounds.* It is now two years later, and I still have the weight off!* I love VIBE and so do my kids!"†

Jill L.







I wanted to be a better role model for my kids, so I decided to enter a contest. At the fitness center I received my first VibeletTE, and I started to feel changes in my body right away.* I continued taking VIBE and realized I had more energy with less of a craving for unhealthy foods.* Overall, I felt like a new person–better than I had felt in quite a while!* I cut my calories from 5000 to 1200-1400 a day. I had enough energy to work out every day, plus play hockey with my 3-year-old son daily.*

My body felt VIBERGIZED!!! In the 8-week contest period I was amazed at the results.* I also tried the 'VIBE Buffet' one week and was delighted.

Thank you to ENIVA for giving me and millions of others the opportunity to live a healthy life, for giving me some of my confidence back and for helping me set and achieve my fitness goals I know I WILL achieve.Ӡ

Conrad B.


"It's so rare that you find something, especially related to nutrition and diet that actually has a real and profound impact on overall health and the experience of genuine well being. Ten months ago, I weighed three hundred and sixty-nine pounds. I was chained by my own body to a powered chair, and dependent on a wheelchair van to get me around. I also suffered from an eating disorder that was decades old, and I had basically lost all hope.

After taking VIBE, I began to find I had more energy, and for the first time in years I began to be able to sleep for more then four or five hours at a time. My various discomforts faded away around day forty. I started thinking about how I might treat my eating disorder, a thing I had always avoided before, because the very idea of trying to fight it made me feel whipped. I also began looking forward to the VIBE, which my body clearly craved, and with my husband by my side I took on my eating disorder and entered into a twelve-step recovery program.

Today I am one hundred and forty-five pounds, my power chair is gathering dust in the garage, and my wheelchair van is now for sale. I never dreamed that I could experience the sense of well being I do now. My once grey world is now full of light, color, and opportunities. Thank you, Eniva! You transformed my world!"

Shawna S.
†Note: These results may not be typical of what the average consumer will achieve. Proper weight management should be in conjunction with a good diet and exercise. Eniva supplements are meant to assist the body's efforts in weight management and do not guarantee weight loss. Consult your health care provider before starting any nutritional supplement program/product.
Back to top
---
Real Results

Bernie Nicholls
NHL Legend
NHL Legend, Bernie Nicholls sported explosive talent as he began his career with the Los Angeles Kings and continued to accumulate over 1,200 career points while playing for six NHL teams. The skilled pivot was one of the more dangerous scorers in the league and, as he aged, his savvy and natural talent allowed him to remain a multi-faceted contributor to his team. Throughout his big-league playing career, one that spanned 17 seasons, Nicholls was known as the type to make smart decisions. So when a buddy of his suggested he look into a new liquid nutritional supplement known as VIBE, he decided to investigate.

Nicholls, the forward who became the first player in Los Angeles history to score back-to-back hat tricks, doesn't just talk the talk when it comes to VIBE. I've done extensive research on VIBE, and I am completely convinced, that it is the best nutritional supplement on the market today. VIBE delivers cell-ready minerals and other nutrients that support and enhance the four major functions of the body. I take it every day and would not go without it. There is also a VIBE for kids which my 14-year-old son uses.

"I'm very passionate about this," said Nicholls, who appeared in 1,127 regular season NHL games and scored 1,209 points. "Whatever you do, you have to believe in it. It doesn't matter if it's hockey or any part of your life. That's the way I've always gone about things. When I see the effect VIBE has had on people, including my own family, you can't help but be thrilled," said the man who holds the Kings' record for most goals in one and the most points in one game. "It's amazing to hear what people are saying. It's natural, and I believe it would be something athletes would really appreciate. I always tell people, 'Just try it.' Like I said, I'm very passionate about all of this. I'll phone people back if they leave their number, to check and see how they are doing. I just want people to try VIBE and see what it can do.

Bill I.
"People ask me where I get my energy from... I just say 'VIBE.' It's given me back the energy I had when I was 20 years younger. Plus, I don't like to swallow pills, so VIBE is really the ticket for me."


"I have been very actively engaged in athletic and fitness pursuits. I was working out in the gym 3-4 times a week, achieved a crouch press of 420 kilos, running many miles, partaking in advanced aerobics and playing tennis regularly. Just two years ago my right knee gave out. To my horror my left knee followed suit but more slowly. I could find no relief. I had to walk with a stick and sleeping became a big problem as it was almost impossible to find a comfortable position. I had completely given up participating in physical activities. I had put on rather a lot of weight when 9 months ago I learned about a liquid nutritional formula called VIBE.

To my great surprise and huge relief after just one bottle I felt a marked improvement and was able to discard the stick. I have continued to take it which I do every day without fail. I am just about discomfort free and have begun running again in a straight line, which I thought would never again be possible. I now sleep like a log, have lots of energy and am really enjoying life. I can truly say VIBE has changed my life and I now look to the future with confidence.

Dr. Ian P.

Todd K.
"Since my wife and I were already taking several nutritional supplements prior to starting VIBE, we were not expecting to feel any difference. All I can say is WOW - we feel great! We no longer have to swallow handfuls of pills and tablets, which ends up saving us money, too!"

"VIBE was introduced to me by a close friend. She knew about my head discomfort, my always wishing I could get a good night's sleep, and my attempts to achieve good circulation in my body. After three weeks on VIBE I noticed my energy level increased, I slept deeply, my head felt good, and I could tell a difference in the circulation in my legs. I am happy to say that three years later I am the healthiest I have ever been. I took charge of my health and have not looked back since. I also decided to change my unhealthy eating habits. My interest for learning about nutrition grew to a passion, and maintaining a healthy life was going to be my life's work! I am now a full-time Yoga teacher and an Eniva wellness warrior for life."

Karen M.
"There was a point when we thought Jacki (my wife) would never be able to ride a bike or play golf with the family and that was not one of this family's happier moments. Now, since being on VIBE we are once again enjoying both of these activities. VIBE has truly been one of the greatest events of our lives. God Bless Eniva, Dr. Ben and Andy."

Wes O.

Dr. Robert P.
"My main concern at the time I first tried VIBE was a serious lung issue I was trying to fight. On Sunday I drank one ounce (of VIBE), Monday two ounces, Tuesday three ounces and Wednesday two ounces. That afternoon, I met with my Physician. I told him that I was taking VIBE as a nutraceutical supplement for the past four days. After reviewing the ingredients in VIBE, he recommended my continued use of the product.

Today, I believe in the integrated and alternative approach to wellness. As we provide the proper nutrients in the right form, the body shows itself to be capable of rebuilding. It is my belief that VIBE and the blessing's of God play a huge role our continued good Health. Thank you, Dr. Baechler, Andy and Eniva for producing this excellent nutrition. My wife and I are taking VIBE daily and are sharing the Eniva wellness message with family, friends and associates."


Candace H.
"My body responded positively to VIBE. THANK YOU, ENIVA! It's a privilege, responsibility and joy to be a healthy Eniva humanitarian sharing the best-on-the-planet products and living its mission of Taking Wellness to the World!! For only a life lived for others is a life well lived."

Martha M.
"I know the Eniva products, especially VIBE, have helped mom (almost 90 years old) get back on her feet so quickly. Her surgeon was really impressed. He told her she had done better than most of his younger patients. Her primary care doctor knows that she takes VIBE and approves. After he told her she was being released from the hospital, he said... 'Now when you get back home you start taking that liquid vitamin and mineral again. I think it has really helped you.' – Thank you both for all you do, Eniva You guys are the BEST!!!"

Jon C.
"Little did we know that 4 years ago we were about to see our lives change in ways that we did not imagine. From that day when we tried one ounce of VIBE, everything in our lives has been touched.
- From pop, coffee, sugar and junk food TO fabulous fruity, great tasting VIBE and fruit smoothies.

- From excess fat, bulges and fatigue TO slim and trim and a physique, that is so lean.

- From looking old in the mirror TO an eye catch by others.

- From creaks, cracks, groans and moans TO giggles, grins and thoughts of great days ahead.

- From what we thought was healthy TO the 'Real Thing.'

- From thankful hearts to a passionate, appreciative forever thanks to God for giving the world Eniva."

John D.
"I would like to share how Eniva has impacted my life. I've been with the company for almost two years after trying out the product and noticing life-changing effects on my health and workout routine. I decided I needed to share this product with my friends and family. Little did I know at that time that I had my hands on 'liquid gold' and it would be changing the quality of many people's lives forever."

Steve and Kari K.
"We started taking Eniva Products in June of 2005. What we realized was this was a top quality product, as it became clear to us that this product and company were in a class of their own. Later on, we met the owners, Andrew and Dr Benjamin Baechler. It was evident to us from the beginning, that not only in our opinion they had created a superior product, but they were also running a company with high standards and high integrity. Over the last two and a half years, we have had only positive experiences, reinforcing what we have already believed was true. A superior product, a solid company, and two twin brothers with a passion for bringing "Wellness to the World."

Roger S.
"How many people have found nutritional success using Eniva science? How many have seen their bodies attain wellness through good nutrition? Tens of thousands! In my opinion, the Eniva science is truly amazing. Angstrom sized mineral elements in a liquid delivery medium have made all the difference to thousands over the years. Thank you Dr. Ben for your intellect and innovation."
Back to top
The product experiences listed are meant to reflect personal experiences of Eniva Wellness Community Members. They're not meant to predict the typical results others may obtain. Eniva members may have a financial business interest with the product.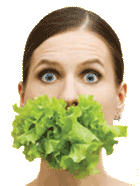 Are You Getting Your
10 Servings Per Day?
With busy schedules and eating on the run, as well as the higher cost of healthy foods, it is difficult to consume the US Health & Human Servies recommended number of
10 daily servings of fresh fruits and vegetables. Eating perfectly every day isn't a reality for most people. VIBE was created to help you fill in the nutritional gaps. While supplements don't replace eating healthy and daily exercise, they are an essential part of a healthy lifestyle.